5 Minimalist Tiny House With Modern Style
House with a modern minimalist style revolutionize current architecture by appearing in many magazines and winning many awards. But the most interesting thing about this architecture is how minimalist house are designed to improve the lives of those who live in them. Using tight spaces they show that large house are not needed to live comfortably.

You may be interested in other articles on minimalist art and design, you can see them in the following links:

Minimalist interior decoration. House with minimalist decoration

Minimalism in art. Artists, works and history of artistic minimalism.
Tiny house with minimalist style


There are several reasons to live in tiny and modern minimalist house, we could include them in the three most important.


The first is that you don't need a very large space to have a comfortable life, as long as you know how to organize yourself.
The second is sustainability. A tinyer house consumes less energy, it's that simple. In addition, much less materials are needed to make it.
The third is the savings in money and energy that living in a minimalist house entails. Being tinyer and simpler, the cost is lower, and so are the bills. As you will see below, most of the inhabitants of house with minimalist style manage to save a lot of money.

Here are the five most interesting house with a minimalist style that I have found.



1. The Asian house with minimalist style
Modern Minimalist Homes with Asian Design Elements


This minimalist-style house won important architecture awards, but the most interesting thing is that it was designed by the Brazilian architecture studio Terra e Tuma for a lady with limited resources. That is why we can say that minimalist house are within the reach of all pockets.

It is a two-story minimalist house with a clean and simple design. It is located in São Paulo in the Vila Matilde area. It is a project that began as a rehabilitation of the owner's old house, which was beginning to collapse.
Modern chinese interior, Chinese style interior, Contemporary interior design

Due to the low budget, the project had to be adapted in materials and design. Precast concrete blocks were used for the walls and were left uncovered. In addition, to reduce the cost of the electrical installation, it was left on view, giving the house an industrial style.

The minimalist house has two floors. On the ground floor is the residence with a living room, kitchen, bedroom, terrace and two services. While on the top floor there is a terrace with an orchard and a second room.

Regarding the interiors of the minimalist style house, lighting was especially thought about, installing a multitude of windows and stained glass windows that, in addition to letting in light, give a feeling of spaciousness. These stained glass windows go from the sole to the ceiling. Despite being a house built on a total area of ​​120 square meters, life in it is very comfortable. In addition, the walls were left without decoration and only the necessary furniture was placed, simple wooden and iron furniture.


2. The architect Doug and his house on wheels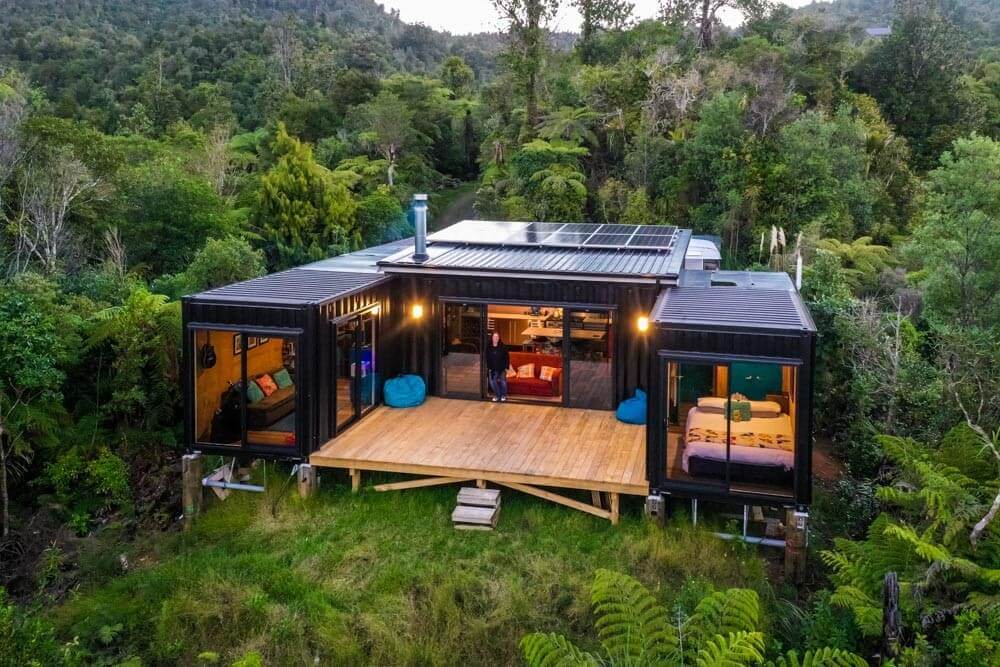 This American architect devised a tiny house on wheels as a solution to the high rental prices that house have today. In addition to the low cost, this house has the advantages of being able to take it anywhere in the world since it has a trailer.

It is a house totally designed to live in the most sustainable way possible. On the roof it has solar panels that feed it with energy. The facade is made of metallic insulating panels joined by a steel frame. And the water it uses is recovered to water its plants.

As for the interior, it has a living room with a desk that can be converted into a sofa by moving the furniture a little. It also has a tiny table to eat. At the back is the kitchen with everything you need to cook, and where the battery for the solar panels is installed to power the whole house. The shower and toilet is accessed from the back, although it usually uses those of the campsites where it is installed.

Finally, the bed is located on the kitchen which is accessed with a ladder and which has a sunroof to be able to see the stars at night.
3. The modern minimalist style house of Sophie Hicks in London

Sophie Hicks is a well-known English architect who designed her house on a 75-square-meter lot in London, with a ground floor and a basement. To give light to the whole house, Sophie included a glass ceiling throughout the house.

Seen from the outside the house is so tiny that it can look like one of the entrances to the London Underground.

The house with a modern minimalist style hastwo floors, ground floor and basement. On the ground floor there is a living room, a kitchen, a storage place and an interior patio. In the basement there are two bedrooms and two bathrooms, this ground floor overlooks a tiny outside garden.

Regarding the decoration, the wall was left with exposed cement, leaving the walls unadorned. In addition, simple furniture was used and only what was necessary according to its functionality. Also to improve the interior decoration, the electrical installation was hidden inside the concrete walls.

This house was designed to produce the least amount of CO2 possible, so it makes the most of natural light and solar panels are installed on the roof that generate electricity.
4. Tammy Strobel's tiny house with a minimalist style

Tammy Strobel is an American photographer and writer who decided to embrace minimalism by changing her way of life. To do this, she and her husband built this tiny minimalist wooden house. Once her tiny house with a minimalist style was built, they moved from downtown Davis, California; to Portland Forest in Oregon.

Tammy Strobel's little wooden house.

Tammy Strobel decided to leave her big house with a pile of objects accumulated over the years that she no longer used, and they changed the city center for the Oregon forest. According to her, her life has improved a lot since she now works from home as a web designer, and although she earns less than before, she can now support herself, having reduced to zero a debt of 30,000 dollars that she had previously contracted. In addition, they now have money and time to travel, which they did not have before.

Inside view of the wooden house. The result has been a tiny minimalist country house with everything you need to live.

The tiny house of minimalist style consists of two heights. A room with kitchen and dining room. And a second height with the mattress. According to Tammy they have plenty of space to store everything they have.


5. The house of the Japanese architect Douglas Wan

Of course, in this article about minimalist style house, a reference to Japanese architecture could not be missing. Especially taking into account the space problem that exists in the Japanese country. This architect has managed to design a minimalist house in a space of only 28 square meters.

Douglas Wan has designed an efficient solution to the problem of space, designing an apartment with all the comforts making furniture that moves and adapts to the needs of the space and the use that you want to give it at that time.

You can see an article about this minimalist home in Design milk

All these examples of house with a minimalist style make us think that it is possible to live in tiny spaces, even that one lives happier. Living in tiny spaces forces us to have fewer things and that according to minimalism should make us happier since we put our interests in the really important things.

I currently live in Brazil with my wife, in an apartment of just under 50 square meters and the truth is that we have everything we need in this tiny house. We have learned a lot about order thanks to Marie Kondo and we are currently furnishing it to be able to have a very comfortable life applying the bases of minimalism.

Thanks for stopping by the blog, you can leave your comments below.